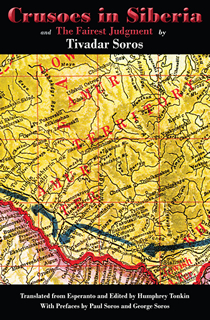 Crusoes in Siberia
and The Fairest Judgment
by Tivadar Soros

If you want to know where the brothers Paul and George Soros got their business skills, look no further than this little adventure story told by their father.
In simple, understated style, Tivadar Soros tells how he and his companions broke out of their Siberian prisoner-of-war camp at the time of the Russian Revolution and traveled on foot through inhospitable mountains to freedom. And this was just preparation for the equally horrendous conditions that Tivadar and his family endured in World War II.
Unfortunately, out there in the forest, I had
no companion like Crusoe's Friday. My main
helpers were an unquenchable desire to return
home, and the easy equanimity that comes to a
healthy person leading a wandering life.
Tivadar Soros
Tivadar Soros's memoir of Siberia ... is essentially
an adventure story – a story of a young man's
ingenuity and endurance.
Humphrey Tonkin
As a schoolboy, I used to join my father in the
swimming pool after school, and after swimming
he would regale me with an installment
of his adventures. In this way they became an
important part of my childhood.
George Soros
I and my brother consider it to be our good fortune
to grow up observing how our father lived
and dealt with the problems of the world.
Paul Soros