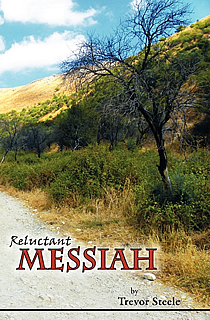 Reluctant Messiah
By Trevor Steele
Publication Date:
01 Sept. 2010

Jesus' death - "triumph of a glorious illusion".
His "resurrection" - a plot by Kaiaphas gone wrong.
This novel, based on a large amount of research, seeks to explore Jesus' actual life before he became an object of deification and falsification. It follows him from his humble birth, his gradual development of healing powers, his years as an Essene monk, his short campaign as a charismatic healer-preacher, to his ghastly death - and what happened after the death. Every page is packed with details of life at that time, its intellectual currents and political developments. This Jesus is an attractive human being who makes some mistakes, but inspires strong love and hatred. Incidentally, Judas Iscariot is shown to be not the betrayer but the loyallest follower of Jesus, and Mary Magdalene, the woman Jesus loved, was never a prostitute.
The core text is the manuscript of Aurelius, an officer of the Roman army of occupation, who interviewed many people just a few years after the crucifixion and wrote this biography. But we read it through the eyes of a black American cardinal of the twenty-first century. -- Australian author Trevor Steele has published almost a dozen novels, collections of short stories, and travelogues in English and Esperanto.
Sept. 2010: Reluctant Messiah (New York)
Death and Empire in the Tropics (Biographical Novel. Raleigh, 2006)
No Butterflies in Bergen-Belsen (Novel. London, 1998)
Remember and forget (Short stories. Vienna, 1995)

Kvazaŭ ĉio dependus de mi (Novel. Anterpen, 2009)
Kaj staros tre alte... (Novel. Vienna, 2006)
Diverskolore (Short Stories. Kaliningrad, 2005)
La fotoalbumo (Novel in 2 Volumes. Vienna, 2001 and 2005)
Neniu ajn papilio (Novel. Vienna, 2000)
Australia Felix (Short Stories. Vienna, 1999)
Falantaj muroj (Short Stories. Vienna, 1997)
Apenaŭ papilioj en Bergen-Belsen (Novel. Vienna, 1994)
Memori kaj forgesi (Short Stories. Vienna, 1992)
Sed nur fragmento (Novel. Vienna, 1987)